Latin name: Prunus spinosa

The blackthorn (an draighean in the Gaelic language) is one of the earliest flowering trees, flowering in late March/early April and interestingly, it flowers before its leaves appear.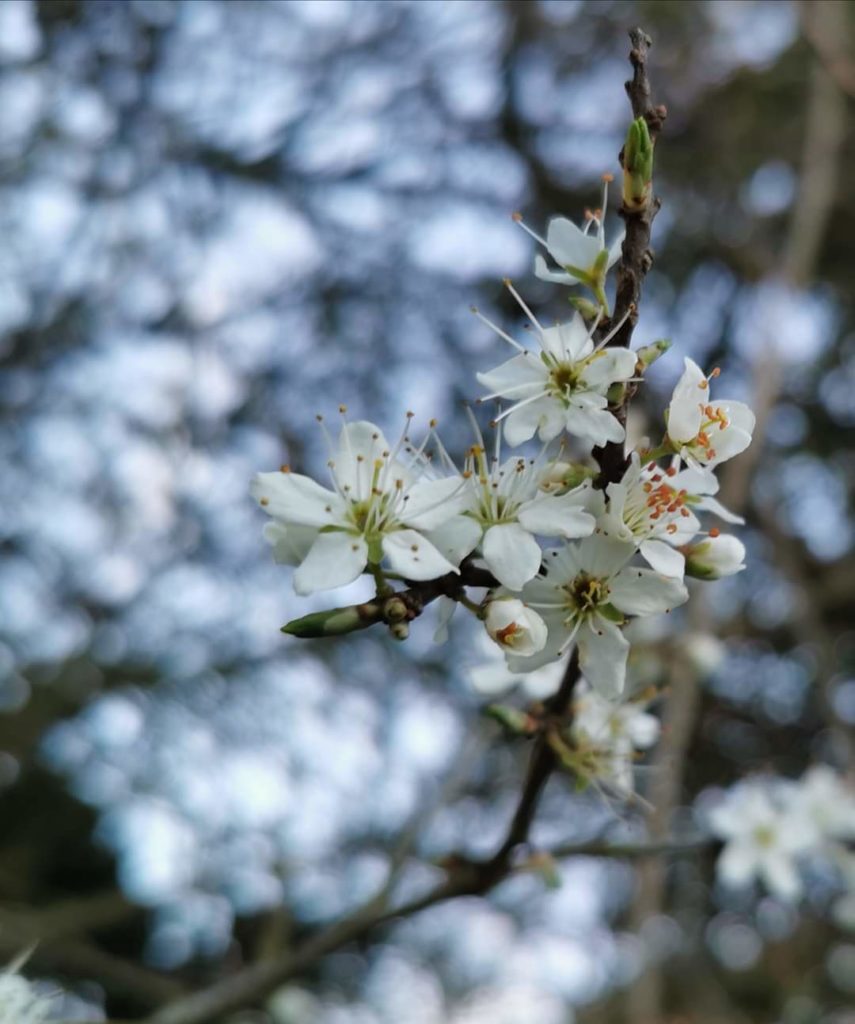 The blackthorn is a hardy plant, with thorns and thick brambles and can be seen in many hedgerows in the Irish countryside. It grows to about four metres in height, and is sometimes called the 'sloe bush' or 'wild plum' because of the dark fruit it bears in the autumn.

When bare in winter, the blackthorn looks similar to the hawthorn. However, the hawthorn has light grey stems, while the blackthorn has stems which are much darker in colour.
The flower of the blackthorn is very similar to that of the hawthorn, however, the hawthorn flowers after the leaves while the blackthorn flowers before the leave appear.
The oval leaves of the blackthorn are a dull/dark green in colour. The onset of autumn can be detected when the dark purple fruit called sloe berries of the blackthorn begin to form. The berries are extremely sour and are used by some to make jelly and as flavouring for sloe gin.
Wildlife and the Blackthorn
Blackthorn bushes are very important for wildlife. As with other trees, such as the hawthorn, they help to provide shelter for birds and other wildlife. Insects, especially moths and butterflies are attracted to the blackthorn because of the light sweet scent from its flowers which helps in the pollination process.
The Blackthorn and The Otherworld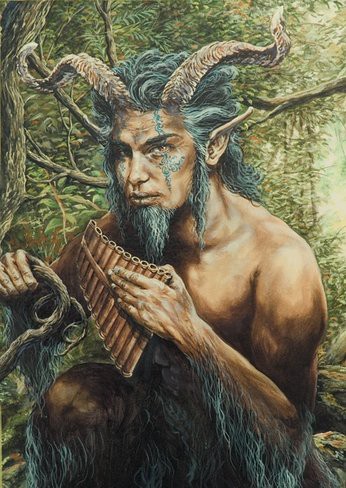 In wild or overgrown places, where the blossom grows thickest beware the paths which wind through its spiny tunnels, for eventually they will lead you to the waiting Lunantishee and on into the Otherworld.  Where blackthorn grows near its sister plant the hawthorn, the site is especially magical and it is said to be a portal to the Fairy World and the land of the Little People.
The Blackthorn tree itself is said to be protected by the ferocious Lunantishee, beings believed to live within the bush itself. Some associate the Blackthorn with the Leannán Sidhe, the Fairy Lover, who seeks the love of a mortal, but whose love is both beautiful and terrible. It is said that once captivated the human is blessed with poetic inspiration but will finally waste away from longing for her.
Mythology of the Blackthorn
The fierce nature of the thorn is reflected in Irish mythology where it is said it was used by warriors who fought with clubs of spiked blackthorn ringed with iron. The Shillelagh or 'Irish fighting stick', originated in the village of Shillelagh, Co. Wicklow, was also made from blackthorn because of its hardness and the wood was cured to further strengthen it by burying it in a dung heap or smearing it with butter then placing it up the chimney. These were made from naturally fallen branches, so beware, only a fool would consider cutting and /or burning these thorns.